April 22, 2021 will kick-start another 'International Earth Day'. A day like no other, it is a celebration of us as a species who has survived and thrived the travails of evolution. A strong and impactful day focusing on the future of earth as a resource bank.
It was born as a proposal by John McConnell in 1969 in the US to understand peace as a global concept, and was supported by United Nations. The first coordinator Dennis Hayes, renamed it as Earth Day. By 1990, it had become an international movement across 140+ countries. It grew from its initial vision and went on to become a day environment has to be payed respects to.
Resource management is a catalyst to peace across the world, its oceans, lands and air. The credence to this movement came with its inclusive behaviour of the program also added non-environmentally related people to be included in the discussion setting the ball rolling to understand that EVERYONE has to be a partner in this action.
2020, the year of the pandemic has made us contemplate even more about the implications of thoughtless living and the greed over need concept that has taken over lives. The annual event sees the world come together to show solidarity to the one earth we have.
Although countries like India has maintained a sustainability based lifestyle, times and things have changed over the years. The program has now become digital and reaches billions of people across more than 190 countries and the main focus according to earth.org which manages and coordinates this annual program is 'Rebuilding Earth'. Quoting from the same source, 'this digital event will examine climate and environmental justice, connecting the climate crisis to issues of pollution, poverty, police brutality, all within a racial justice framework'.
New age issues like plastics, poaching, extinction of species, pollution, livestock management, agricultural future etc. also got added with time and have raised valid questions on its practicality and lateral damages. We are all part of the larger ecosystem and poaching in Africa, burning of Amazon, the dying out of the Australian reef, Great Pacific Garbage Patch or the death of mangroves in India can impact the planet on the whole. Our epoch is known as Anthropocene due to the impact of industrial revolution and we have forgotten that we share the planet.
Evolution is a continuous process and when one species goes extinct either an animal or tree, the gap causes the ecological chain to be damaged irrevocably. Only Earth supports life due to presence of water, an atmosphere and soil which supports the growth of food for sustenance as far as we know. But there is a limit to these resource and an imbalance has set in. Our Earth needs to heal and remember that we are born of nature and supported by the larger Universal Energy. This Universal Energy all around us is a resource in itself and has provided for us and sustained our development till date so staying in sync is imperative. Countries with population where sustainability was built into the culture had the lesser issues of pollution of water, air, soil. Realization of the hazards of 'use and throw' lifestyle is being felt now and is seeping across with the burgeoning population and its demands.
Earth Day 2020, the year of the pandemic saw the world being cloistered at home and over 100 million people around the world observed the 50th anniversary. This is believed to be the largest online mass mobilization in history.
Earth Day 2021 is not just a global event and now permeates into individual lives through its talks about sustainability beginning at home and responsible living. Panels, speeches, discussions, and special messages will mark the day, drawing in the youth- the future of the world. Our efforts should drive home the point that every earth citizen has to be an activist and any personal step is a contribution adding to the total humanitarian efforts towards the cause.
By 2021, lays bare the threats and the challenges immediate and long term. Curriculums and corporate across continents are now looking at the monstrosity of this reality. Environmental literacy is the go to word now, since we cannot set right when we do not know what to set right.
"Restore Our Earth" by earth.org in 2021 will include natural processes, green technologies, restoration of ecosystems, reforestation, food footprints, carbon footprints, agricultural systems, global clean-up and environmental literacy. Recycling, going local and seasonal, organic and biodegradable is the new way ahead.
We have one planet and we have to keep it safe and sound, because there is no replacement. It is a movement of people and for the global house we all live in. Students, homemakers, world climate leaders, grassroots activists, non-profit innovators, intellectuals, industry heads, artists will all come together towards making and retaining a better world.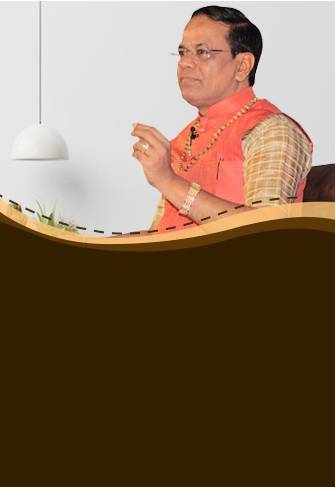 Transforming the lives of millions of families within 9 to 180 days with his divine knowledge.