Farmers are the very backbone of any agro-based economy. An estimated 16.6 million people are engaged in farming activities in India. About 58% of the population of India is engaged in agriculture-related activities. India is expecting to double its farm-related income by 2022. This calls for better support for the farmers in terms of technology and knowledge.
A report by Indian Agriculture and Allied Industries has the following statistics:
The Indian food and grocery market is the sixth largest in the world
India is among the 15 leading exporters of agricultural products in the world
Sugar production in India reached 26.46 MT between October 2019 and May 2020
Essential agricultural commodities export for April-Sept '20 was over Rs.37,397 crores
Milk production is expected to increase to 208 MT in FY21 – a growth of 10% y-o-y.
The livestock population is around 535.78 million- about 31% of the world population
Agricultural export from India reached US$ 35.09 billion in FY20
The organic food segment in India is expected to reach Rs. 75,000 crores by 2025
Despite the above performances, farmer problems still top the list of problems of agriculture in India. Below are some of the major factors adding to the problems faced by Indian farmers
Difficulty in getting good rates for crops
Expenses are more than income
Unable to repay loans
Shortage or lack of water
Digging a borewell or well and not finding water
According to ManavGuru's Unique Saral Vaastu, people face problems in farming when they are disconnected from Universal Energy even though they are surrounded by it all the time.
So is it possible…
To get good profits for crops?
To be financially stable?
To clear all your debts and loans?
To solve the issues of water shortages?
To get water in your well or borewell?
Yes, it is certainly possible!
When the farmer is connected with Universal Energy all these problems gets easily solved.
What is Universal Energy?
All religious scriptures talk about God. He is the only one who can neither be created nor be destroyed. He is not born and will never die. He is the Supreme Being. God is everywhere in the universe but cannot be seen.
There is a unique energy in this universe that we call Universal Energy. Universal Energy is also everywhere in this universe but cannot be seen.
The characteristics of both God and Universal Energy are the same. Then why don't we call God Universal Energy?
Universal Energy is a life force that surrounds us at all times. Universal Energy is known to us by various names such as 'Vishwashakti', 'Pranashakti', Cosmic Energy, etc.
Where can you connect with Universal Energy?
To connect with Universal Energy, it is not necessary to go to a temple, mosque, church or any other religious places. The place where we spend our maximum time in a day is important.
We spend around 10-12 hours a day in our house and 8-10 hours a day in our workplace. It means that out of 24 hours/day, we spend 20-22 hours/day in both these places i.e. our house and workplace. So these are the two places to connect with Universal Energy.
How can you connect with Universal Energy?
ManavGuru's Unique Saral Vaastu concept will guide you on how to clear some energies that are obstructing to tune with Universal Energy. It helps you to tune with Universal Energy. As a result, you will start to experience positive changes in 9 to 180 days.
Is there any scientific explanation to this?
Universal Energy has a unique vibrational frequency. Number '9' is the unique high vibrational frequency of Universal Energy.
Every person has energy with some vibrational frequency. The place where the person lives or works also has energy with some vibrational frequency.
When vibrational frequencies of the person and their house/workplace are connected with the vibrational frequency of the Universe (i.e. '9') then immediately Universal Energy is channelized into the body of the person and place. This results in the supply of Universal Energy to trillions of cells in the body when required.
In other words, when Universal Energy is channelized in the body of the person, Universal Energy is supplied to trillions of cells in the body and this helps the cells and organs to become more energized and active.
As a result, the person starts experiencing positive changes physically, mentally, financially, socially, and academically in 9 to 180 days.
Once the connection with Universal Energy is made, then Universal Energy starts to give positive results in such a way that:
You will get good profits for your crops
Your financial status will improve day-by-day
You will repay all your loans
There will be no more shortage or lack of water in future
If you are planning for a borewell or well, you will surely find water
You will progress physically, mentally, socially and economically
Farmers in an agro-economy will benefit from connecting with Universal Energy. The farmer problems will be resolved and will strengthen the backbone of the country with better farm outputs and income for the farmers.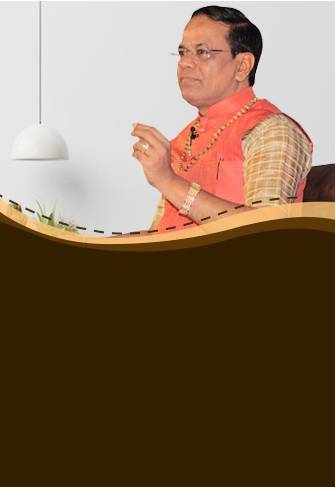 Transforming the lives of millions of families within 9 to 180 days with his divine knowledge.