Mother, that one person who stays awake in the night, to sit by you if nothing else just to watch you sleep. To caress you and hug you when the world calls you names and bullies you. To fight with dad on your behalf for those picnic permissions. To cook delicious meals or threaten you to finish the food on the plate.
The person who coaxes you to have medicines and take injections and tells you how you are the most beautiful in the world. The one mum who beats the wall when you flew into it as part of your play time. The one constant who you want to save yourself from during homework and study hours and when going berserk being naughty.
Mother, the person who brought us into the world, we know her from the time we were one cell old. She gave us her blood to shape us into the healthy child that we become. She has endured unimaginable pain to bring us physically into this realm. A mother teaches us the importance of respect, the happiness of having good and correct social friends. She may not have fancy college degrees, but she makes it up with motivation and interest in all that we share with her. She can be a tiger mom, or a subtle gentle one, a creative mum or a mum who lives in the moment. She helps us smell our first flower, she hand hold us towards our first pet. She teaches us to comb our hair and dress for any occasion. She guides us to pray. She teaches us to play holi safely, oils the hair and also runs behind us to stop overeating.
We worship various goddesses in the temple, but one the one at home is the real one. Historically, mothers have brought up heroic kids who have changed the course of human existence. From Jijabai Bhosale to Madame Curie to Rani LakshmiBai of Jhansi who carried her child into battle.
Make each day count, like she did when you were a new born, went on to become a teen and flew the nest. Mother's day is one day when we repay her. Do not let her forget about her strength when the going gets tough and strained. We are lucky to hear lullaby's and be put to sleep in safe arms not knowing a worry in the universe. She gave us 'prana', our very life. She is our personal Universal Energy. No matter what shape a mother is whether a human, an animal or a small sapling under a tree, a mother's love is infinite like this Universal Energy, always protecting and safeguarding our best interests. All mothers have the same interests in life. Her children are her degrees and her achievement. When you fall, she will help rise, when you rise, she applauds.
International Mother's Day, is to warn her that her kids will make dangerous cakes to express love. She will love that cake no matter what. We make cards and plagiarise couplets from the internet or make fancy throwback posts on social media.
Mothers have changed with times. From homemakers to go-getters, we have seen all types of mothers. From sarees to wearing army uniforms, mothers have done it all. She guides traffic, walks the ramp, trains students or collects fodder for animals when pregnant. But, the basic DNA remains the same be it Aai, Amma, Ma, Mama, Ammi, Momie, Mommy or Mum. She has been our eyes to the world, as time progresses and her hands go from strong to wrinkled, we have to show the world that we love this precious resource called mother. We really care, we may have wars over the length or colour of hair, but that we may bring her gifts and pamper her, but the real deal is to be close to her, check on her and keep her warm and happy. We may be thousands of miles away, yet a phone call makes her day.
There is indeed only one force of nature called a mother. She is far more important than any gems we own or cars, huge houses. To place our heads in her lap and sleep in blissful abandon is the most important part of being alive. This mother's day reach out and tell her that she means the world to you and that you in debt of her love eternally.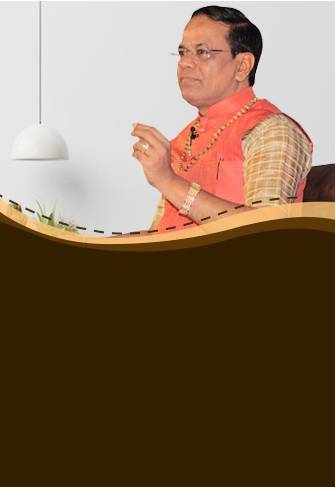 Transforming the lives of millions of families within 9 to 180 days with his divine knowledge.