A learner has to read, retain the information and use the knowledge during the normal course of study. Concentration is essential to all types of learning. Knowledge is called the record or imprint on the brain through the learning process.
Concentration has to be developed with discipline and regular practice. There has to be a balance between focused study and playtime. Being organized helps the student to be a better learner and it improves retention and recollection of the matter learned.
Challenges faced in Education:
General lack of interest and focus in studies
Laziness and procrastination and distractions
Inability to crack entrance exams and get marks as expected
Inability to get into an educational institution of choice
Obstacles to getting through to studying for specialized courses abroad
Unhealthy lifestyle and bad habits, substance abuse
Environment not good for the learning process
What is the relation between Hippocampus and Memory?
Hippocampus in the brain is the center of learning and memory. If damaged by external trauma, neurological and psychiatric disorders it does not work efficiently.
According to ManavGuru's Unique Saral Vaastu students face education-related issues when they are disconnected from Universal Energy even though they are surrounded by it all the time.
So is it possible…
To improve speed and level of learning and retention?
To develop interest and discipline to avoid distractions?
To overcome an unhealthy lifestyle and bad habits?
To develop a focus to clear exams and get excellent marks as expected?
To become a student in a college of choice and have a smooth admission process?
Yes, it is certainly possible! When the learner is connected with Universal Energy, problems in education like lack of concentration, retention, recollection, obstacles in admission, discipline etc. gets easily solved.
What is Universal Energy?
All religious scriptures talk about God. He is the only one who can neither be created nor be destroyed. He is not born and will never die. He is the Supreme Being. God is everywhere in the universe but cannot be seen.
There is a unique energy in this universe that we call Universal Energy. Universal Energy is also everywhere in this universe but cannot be seen.
The characteristics of both God and Universal Energy are the same. Then why don't we call God Universal Energy?
Universal Energy is a life force that surrounds us at all times. Universal Energy is known to us by various names such as 'Vishwashakti', 'Pranashakti', Cosmic Energy, etc.
Where can you connect with Universal Energy?
To connect with Universal Energy, it is not necessary to go to a temple, mosque, church, or any other religious place. The place where we spend our maximum time in a day is important.
We spend around 10-12 hours a day in our house and 8-10 hours a day in our workplace. It means that out of 24 hours/day, we spend 20-22 hours/day in both these places i.e. our house and workplace. So these are the two places to connect with Universal Energy.
How can you connect with Universal Energy?
ManavGuru will help you and your family to connect with Universal Energy through his divine knowledge.
Since the year 2000, millions of families are experiencing and leading an Anandmay Jeevan or happy life.
Is there any scientific explanation to this?
Universal Energy has a unique vibrational frequency. Number '9' is the unique high vibrational frequency of Universal Energy. Every person/child has energy with some vibrational frequency. The place where the person/child lives or works also has energy with some vibrational frequency.
When vibrational frequencies of the person/child and their house/workplace are connected with the vibrational frequency of the Universe (i.e. '9') then immediately Universal Energy is channelized into the body of the person/child and place. This results in the supply of Universal Energy to trillions of cells in the body when required.
In other words when Universal Energy is channelized in the body of the person/child, then Universal Energy is supplied to trillions of cells in the body and this helps the cells and organs to become more energized and active.
As a result, the person/child starts experiencing positive changes physically, mentally, financially, socially, and academically in 9 to 180 days.
Universal Energy also helps the affected hippocampus to revert to its normal function, retain the information better and improve the overall memory levels. Within the next 9 to 180 days the child starts experiencing positive changes such as:
The interest level in learning and seeking knowledge increases
They will realize the importance and sense of duty associated with education which drives the learner to study better and top the class with excellent marks
The level and speed of retention and recollection increases
Get admission to the educational institution of choice
Will help to clear obstacles for specialized courses abroad
You will see fewer or absolutely no medications and visit doctors/counselors
Goal of clearing entrance exams of IAS, IPS, IFS, CA or KAS, KPS, or any other can be achieved
The learner will realize the impact of bad habits on the future and will work hard to leave the bad habits
Connecting with Universal Energy is the first step toward resolving education related obstacles. It helps the student reach an improved state of function and helps in better usage of the knowledge gained.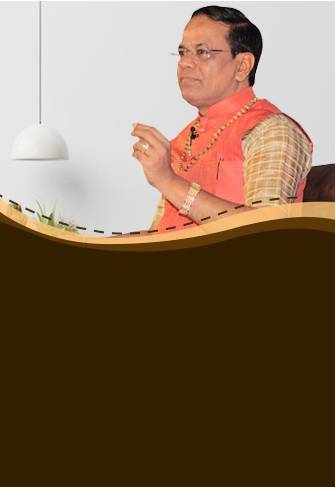 Transforming the lives of millions of families within 9 to 180 days with his divine knowledge.